Assistant professor succeeds at work-life balance
March 1, 2014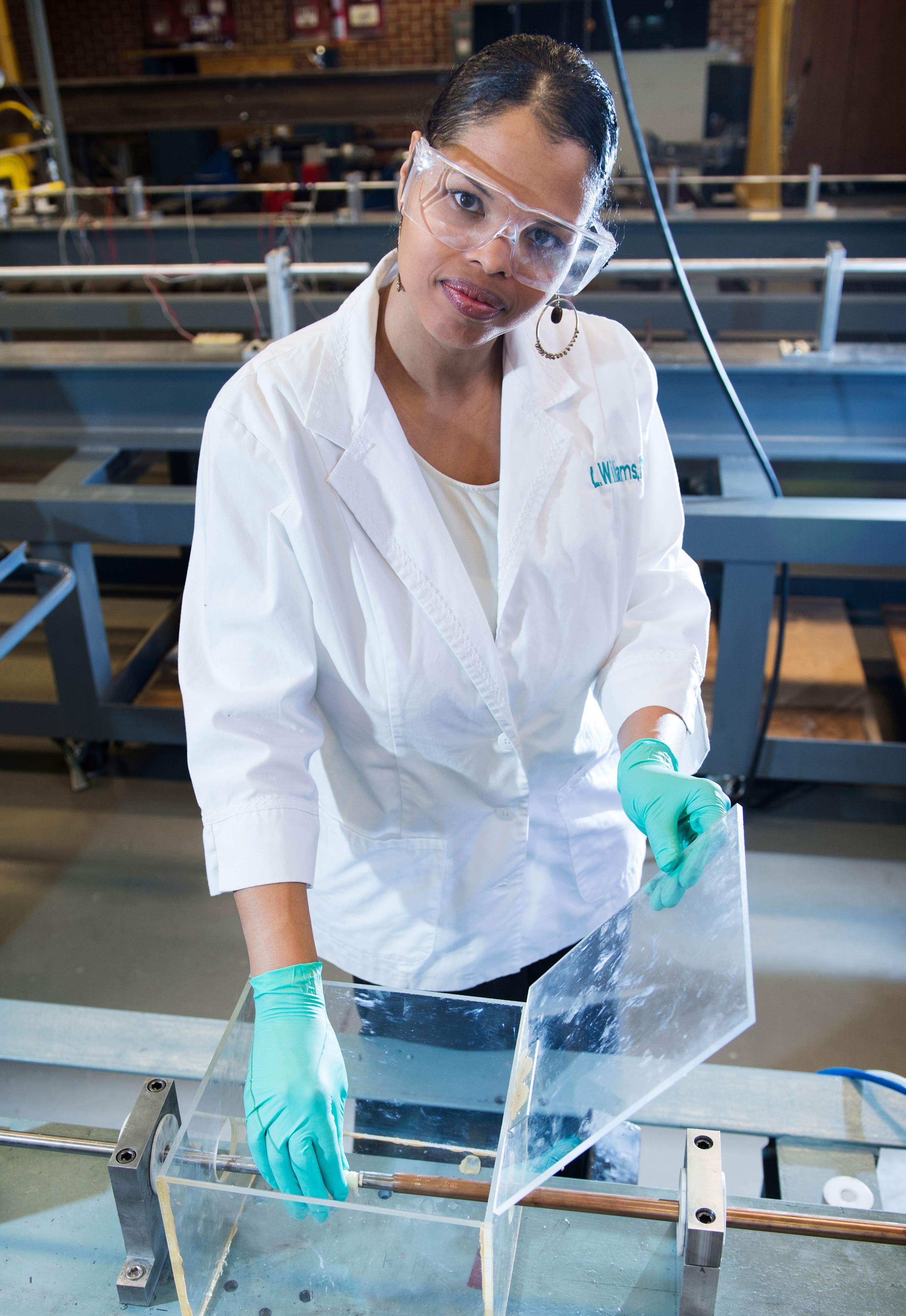 Lakiesha Williams's ambitious mindset takes her on many adventures. She explores new ideas, helps support a family, teaches classes, serves in her community, and travels the world. She juggles many things and handles them with ease. But with everything she does, there's one common theme — changing lives.
A New Orleans native, Williams attended Louisiana State University in pursuit of a degree in microbiology with hopes attending medical school. However, her plans changed after realizing her aptitude for engineering.
"You have to acknowledge your strengths and what you enjoy," Williams said. "I like research and working with people who are analytical thinkers and who enjoy discovery."
After being the first African American to complete a doctorate in biomedical engineering from Mississippi State University, Williams joined the faculty as an assistant research professor. Two years later, she was on the tenure track as an assistant professor and began researching ways to protect the heroes who protect the nation.
Using funding from the Department of Defense, Williams and a team of colleagues and students are studying soldier survivability. Their goal is to determine what happens to soldiers on the battlefield so that safety equipment can be improved to provide better protection.
In order to produce an accurate view of how the human body responds to explosions, the team is creating a 3-D human in a virtual environment. Cadaver information from the National Library of Medicine in Washington, D.C., helps ensure that this model realistically reflects the geometry of the human body.
"We were given hundreds of MRI scans of a 50th percentile male, and we were able to put that in our software and create the geometry for a virtual human," Williams said.
It could take years to ensure that the virtual human is modeled correctly and behaving like an actual human would in the event of an explosive blast. Once this is complete, the team can experiment with different blasts, analyze the data and develop appropriate safety countermeasures.
While this research currently focuses on soldiers, Williams said that it can be applied to events that involve stresses on the body such as sports collisions, transportation accidents and wear on body implants. She hopes that virtual humans of all ages can be created to simulate various real-life events, which will lead to developments that make the world a safer place.
"I want to make discoveries that will ultimately lead to the betterment of humanity," Williams said. "The real joy I get is knowing that my work could help somebody live longer and have a better quality of life."
In addition to research, Williams also has a passion for service. She hopes to help children achieve their dreams by establishing centers that promote educational and personal development. She would also like to provide solutions for pregnant women who fear they cannot support a baby in hopes that the child will be given a chance in life.
Williams is a seasoned traveler, having been to Europe, Asia, South America, and many states in the U.S. She and her husband, an assistant professor of computer science and engineering at MSU, especially love Singapore. They are considering a long-term stay there someday while furthering their research efforts.
With all these responsibilities, hopes and dreams, Williams finds that the best way to balance her work and home life is to rely on family for support: Byron, her husband of eight years and their baby Sophia.
"My family is my first priority in my decision making," Williams said. "With Byron and I both being academicians, we understand that we will always have deadlines and requirements. I couldn't do what I do without his support."