BCoE women earn scholarships from national honor society
April 13, 2011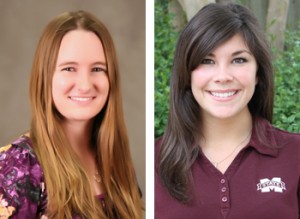 STARKVILLE, Miss.—Two women from Bagley College of Engineering have earned scholarships from the world's largest engineering honor society.
Tau Beta Pi has awarded $2,000 scholarships to both Mary Rougeau and Mary "Ginny" Sewall for the 2011-12 academic year. The two were among 158 students selected from a pool of more than 370 applicants from across the country.
During her time at State, Rougeau has been a part of many campus organizations including the Society of Women Engineers, Resident Hall Association, Student Association and the Engineering Student Council. The biological engineering major has also volunteered with the Salvation Army, Relay For Life and Miracle Works charitable organizations. A graduate of Tate High School, she is the daughter Ron and Debra Rougeau of Cantonment, Fla.
Sewall, an industrial and systems engineering major, has maintained a 4.0 GPA during her time at Mississippi State and was recently named Most Outstanding Senior from MSU by the Mississippi Engineering Society. She has been active in Delta Gamma sorority, Campus Activities Board and the Student Association. She serves as an undergraduate researcher and has worked as a camp counselor for the BCoE's QUEST program, which introduces high school seniors to engineering research. A native of Ocean Springs, Miss., she is the daughter of Mary and Harry Sewall.
Tau Beta Pi began its scholarship program in 1998. When evaluating applications, the award committees look for high scholarship, strong faculty recommendations, definite extracurricular contributions, unusual promise of substantial achievement and a program through which accomplishment will advance the interest of the engineering profession.
Tau Beta Pi was founded in 1885 at Lehigh University. With its current headquarters at the University of Tennessee, Knoxville, the organization has 238 collegiate chapters and 522,972 members. Additional information can be found by visiting www.tbp.org .
For more information about the Bagley College of Engineering, visit www.bagley.msstate.edu .